LED Mirrors Are a Necessity for Your Bathroom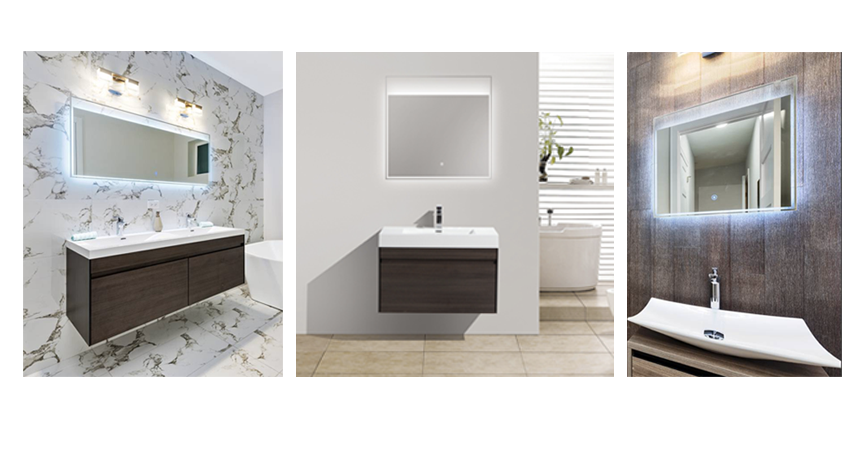 LED Mirrors Are a Necessity for Your Bathroom
When planning your bathroom design, there are two essential elements, no matter the style or space you're working with: lights and mirrors. Too often lighting a bathroom is low on the priority list relative to additional rooms in the house. However, with bathrooms becoming larger and more elaborate, proper lighting is essential to making the most of the space. When it comes to adding the perfect lighting for your bathroom, you should consider replacing your existing mirror with a sleek, modern LED mirror by MegaBAI.
There are many advantages of choosing our LED mirrors for your bathroom. LED lighting consumes up to 80% less energy than other lighting alternatives, and provides better light quality. They are also long lasting and durable.
When you combine LED lighting with a stylish mirror, you get quality lighting that is functional and elegant, making even a small spaced bathroom look spacious.
MegaBAI's LED mirrors have a modern and slim design and are energy efficient. They are very safe and easy to install - just simply hardwire the mirror in order to have the LED lights work.
The touch sensor in the front of the mirror allows you to illuminate the mirror by a simple finger touch. MegaBAI's LED mirrors are backlit, meaning they do not shine at the face, but they illuminate the back wall to improve the aesthetics of your bathroom.
All these features will bring a stunning look and feel to your bathroom and deliver a more modern touch. An added bonus is that it also creates a spa like feel that is crisp, clean and relaxing. If you are looking to replace your vanity mirrors, MegaBAI carries a variety of sizes and models. They also have beautifully crafted vanities that will complement your new mirror. Plus, all of their products are competitively priced compared to other sellers on the market.
Replacing your outdated mirror with an LED mirror will enhance your space, add optimal lighting, and help save on your electricity. If you are ready to take your bathroom to the next level, take a look at the variety of MegaBAI's LED mirrors on the website: www.MegaBAI.com.
---